"DATA PRIVACY IN THE TIME OF COVID-19"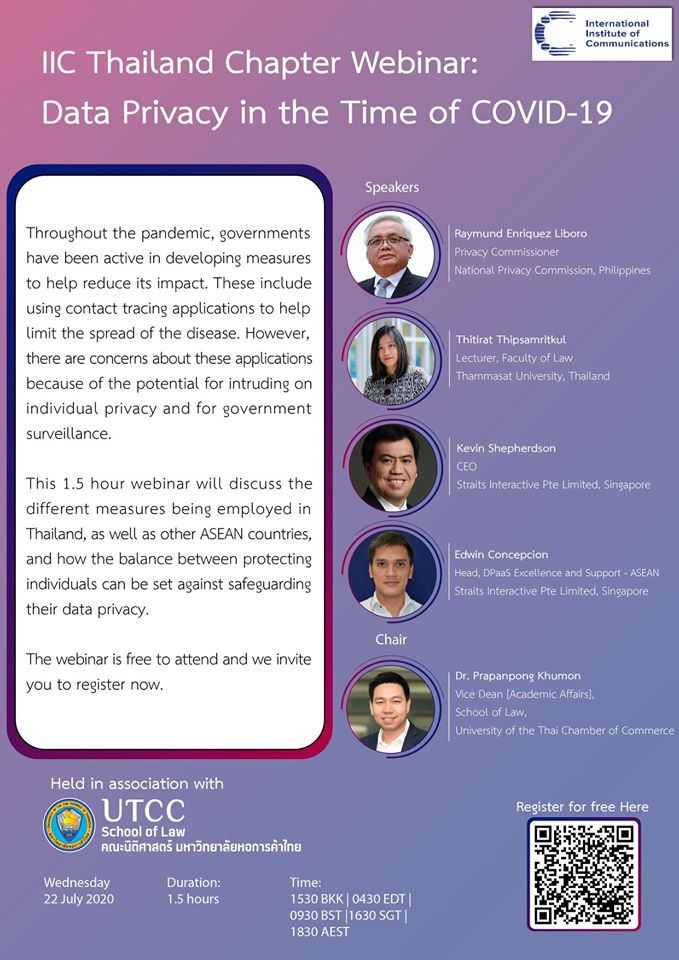 IIC Thailand Chapter's webinar on Data Privacy in the Time of COVID-19.
Throughout the pandemic, governments have been active in developing measures to help reduce its impact. These include using contact tracing applications to help limit the spread of the disease. However, there are concerns about these applications because of the potential for intruding on individual privacy and for government surveillance.
This 1.5 hour webinar will discuss the different measures being employed in Thailand, as well as other ASEAN countries, and how the balance between protecting individuals can be set against safeguarding their data privacy.
Held in association with the University of the Thai Chamber of Commerce, the webinar will be moderated by Dr. Prapanpong Khumon, the School of Law's Vice Dean.
The webinar is free to attend and we invite you to register now.
Event details
Date: 22nd July 2020
Duration: 1.5 hours
Location: Online Meeting
Theme: Privacy, Safety, Security
Region: Asia Pacific
Chapter: Thailand
Time: 1530 BKK | 0430 EDT | 0930 BST | 1630 SGT | 1830 AEST